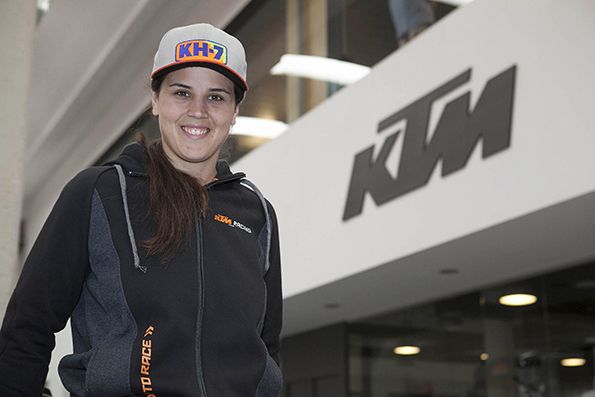 10 de abril de 2015
En
Otras
Laia Sanz signs with KTM
Sixteen times world champion, Laia Sanz, has signed a contract with KTM until at least 2017. The contract includes the World Women's Enduro championship, the X-Games and some rounds in the World Rally Championship.
"Sports is all there is behind my choice."
"I thank Honda for all the opportunities I had."
Once the contractual relation with Honda HRC expired and she was free of contractual obligations at the end of Rally Dakar 2015, Laia Sanz has sealed a deal with KTM Motorsports to immediately be part of the KTM Factory Rally Team.
The deal between the Austrian motorcycle manufacturer and the sixteen times world champion will bring them together at least until the end of 2017 and includes Dakar 2016 and 2017, the 2015, 2016 and 2017 World Women's Enduro championships, the X-Games and several rounds in the World Rally Championship.
Laia Sanz: "After giving it a lot of thought, I've decided to start a new stage and I'm thrilled about it. Sports is all there is behind my choice. I really like KTM project because I can run races and receive a good training with a reliable factory structure that gives me peace of mind. KTM's good conditions offered for the World Enduro championship and being able to learn from champions such as Marc Coma and Iván Cervantes tilted the balance in their favour. For me, this environment will be of great help. I am happy and thankful for their confidence and I only wish to give them good results in return."
"I have grown as a racer with Honda. I appreciate all the opportunities I had. I close this period of my career with great joy because I can shake hands with the people I used to work with.  During the past weeks, Honda executives have offered me good sports, technical and financial conditions to stay. I am aware of how valuable this is but I'd already made my mind."
"I want to thank not only the brand but also the people at Honda who trusted and supported me, especially Johnny Campbell, Katsumi Yamazaki, Martino Bianchi, Hide Hanawa, Albert Cavero, Egidio Motta, Filippo Gioia, the Mecteam guys, HRC Japanese technicians and my partner Helder Rodrigues."
The Enduro GP of Spain, which will be held from 8 to 10 May in Jerez, will be Laia Sanz's first international competition with KTM.